Oma, erzähl mal!
a project by david wolkerstorfer
---
* 1.9.1924
† 21.3.2018
---
has been on display at the Interface Cultures Exhibition
in the Brucknerhaus
at the Ars Electronica Festival 2011 in Linz / Austria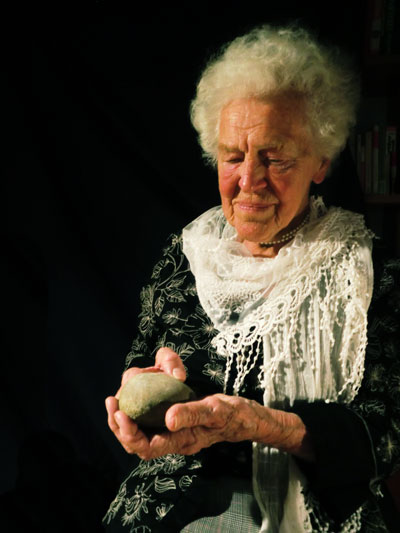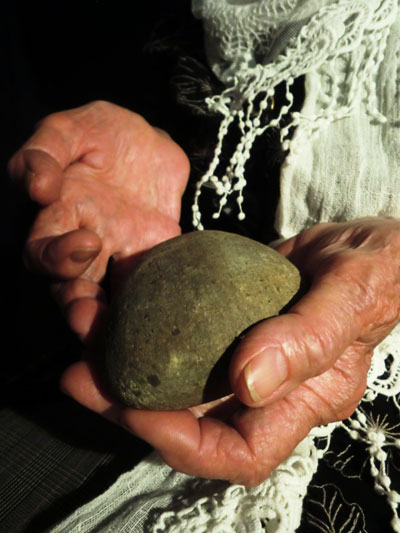 Memories are the essence of everybody's unique personality. There are countless untold and unheard stories, so the number of unrecorded known tales from a long-gone past, is probably even higher. One could argue that our priorities have changed and therefore one has less motivation to listen to old stories from grandmother's youth. Perhaps it is the ever-increasing rhythm of the world economy that therefore leads to a more stressful lifestyle with less time for our ancestors.
My grandmother enjoys collecting stones. They don't have to be precious, they just have to appeal to her in one way or the other. Concerning the bare functionality Oma, erzähl mal! (Tell me a story, grandma) uses a simple audio recording and playback device. However, beyond this technical perspective, the project aims to preserve as many memories from my grandmother as possible. The stones become containers of her personal memories. The stones preserve grandma in their memory.
masterthesis
press coverage
audio
david wolkerstorfer (ehem. brunnthaler)
artuniversity linz - interface cultures
0043 664 911 37 40
david@i-am-alive.at